Approximately half of Mueller's planned 6,900 residences are available to rent. All apartment complexes include homes in the Mueller's affordable homes program with three complexes where most of the units are affordable. To learn more about the Mueller Affordable Homes Program for rental, please visit our information page.
AMLI Branch Park is located across the street from the Texas Farmers Market. This LEED Gold® community offers exclusive amenities such as a ¾-acre pool deck, two-story fitness center and lounge overlooking Mary Elizabeth Branch Park. AMLI Branch Park has spacious, one-, two-, and three-bedrooms, studios and live/work floor plans.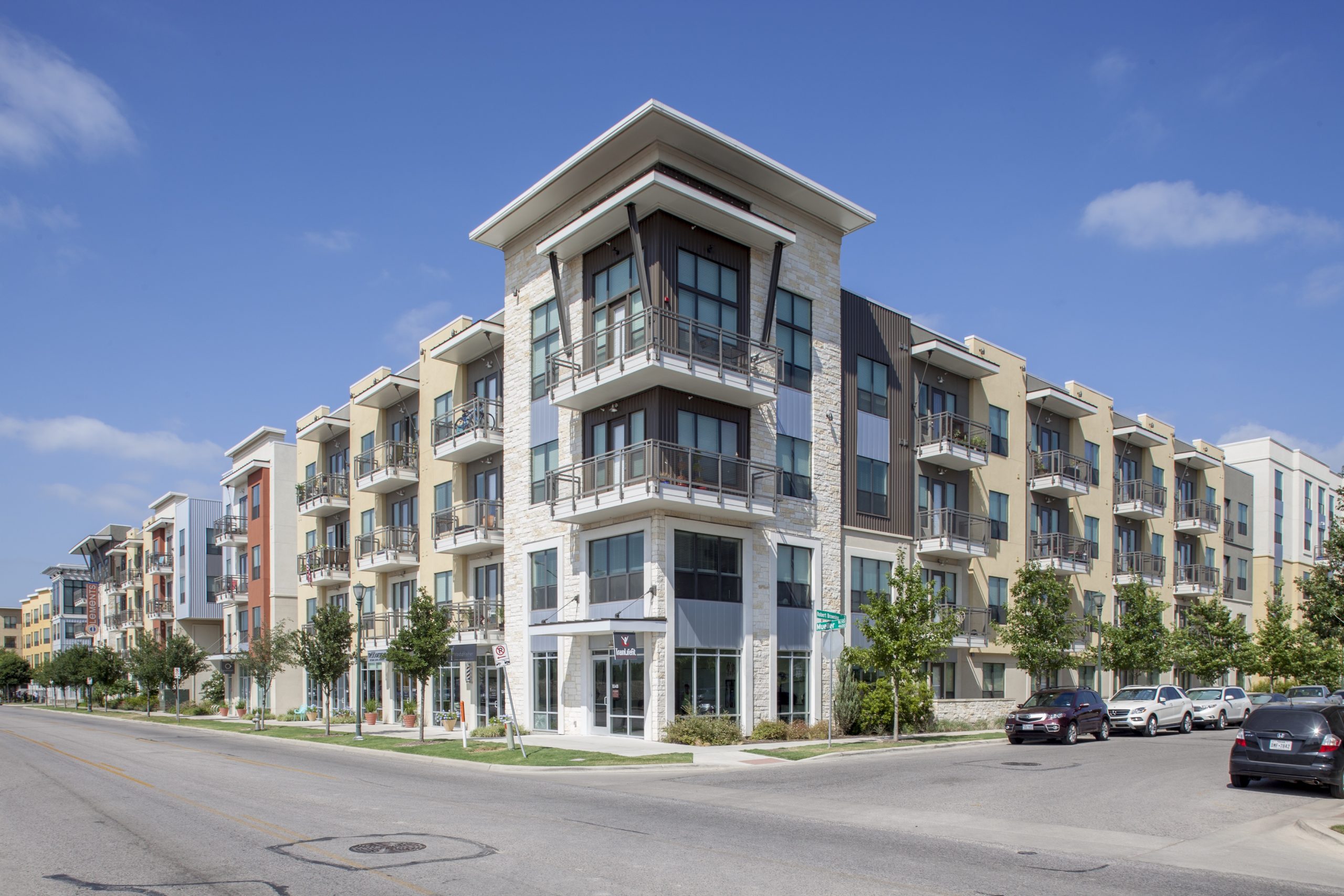 Sync at Mueller
Sync at Mueller has 301 units including, one-, two- and three-bedroom residences with five two-story, live-work units along Mueller Blvd. near Dell Children's Medical Center and adjacent to the Aldrich Street District. Ten percent of the rental residences are part of the Mueller Affordable Homes Program.
Mosaic at Mueller
Mueller's first multifamily community, Mosaic at Mueller includes 441 one-, two- and three-bedroom apartments. Ten percent of the rental residences will be a part of the Mueller Affordable Homes Program. Located at Mueller and Airport boulevards, Mosaic also features convenient Mosaic Market.
Wildflower Terrace
Wildflower Terrace, Mueller's first predominately affordable and Mueller's first 55+ community, offers approximately 200 fully accessible, one- and two-bedroom rental units located at Berkman Dr. at Tom Miller St. with a nearby bus stop and across the street from natural Southwest Greenway.
Aldrich 51
Located at the intersection of Aldrich St. and 51st St., the aptly named Aldrich 51 community is within walking distance of Mueller's popular H-E-B. Its 240 apartments predominantly serve working, income-qualified families and individuals, many of whom may be employed at nearby service and retail establishments.
Overture Mueller
Overture Mueller is a 201-unit upscale apartment community with one- and two-bedroom units for Austin's 55+ active adults. Located at Berkman Dr. and Barbara Jordan Blvd., the convenient location is across the street from H-E-B, Starbucks and Torchy's Tacos, as well as a MetroRapid bus stop.
AMLI on Aldrich, located near Mueller Town Center, has one-, two- and three-bedroom floor plans. This smoke-free, LEED-Platinum®, AEGB 2-Star rated community offers residents a healthier lifestyle and a great location across from Mueller's Mary Elizabeth Branch Park and within walking distance to Alamo Drafthouse, Thinkery and H-E-B.
The Jordan
The Jordan at Mueller, located along Philomena St. at Tilley St. near Jessie Andrews Park and the upcoming Austin ISD middle school, features 132 entirely affordable one-, two- and three-bedroom apartments for households earning as low as 30% of Austin's median family income.
AMLI at Mueller is right across the street from Mueller Lake Park and features 7,000 square feet of ground-floor retail. This LEED Platinum® AMLI community is in the heart of Mueller and offers studio, one- and two-bedroom floor plans with 15 percent dedicated to Mueller Affordable Homes Program.
AMLI Ivy is AMLI Residential's newest addition to the Mueller neighborhood. Still under-construction, this community will feature 2,500 sq. ft. of co-working office space, three courtyards, a golf simulator and much more. Check back for more information on this LEED Gold® designed community, which is expected to open in Spring 2024.
Ryan Companies
Community information coming soon.